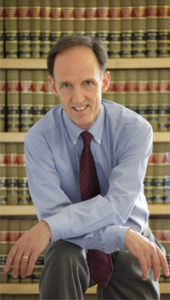 Karl Flaccus, Founder, Attorney
Karl Flaccus focuses on estate planning and trusts and litigation involving wills, probates, and guardianships. He has over 25 years of experience as a lawyer, the majority of which he has spent preparing wills, trusts, powers of attorney, health care directives, and other estate documents. He can also be found advocating in court for individuals, families, and persons who are vulnerable or financially exploited.
A Practical and Versatile Lawyer
Karl's clients are particularly appreciative of the time he takes to fully explain their options under the law and their individual circumstances. When necessary, Karl has the knowledge and skill to fight tough battles in court or negotiate sensitive settlements among parties. Clients value his incredible patience, which is often instrumental in diffusing difficult situations and reaching rational outcomes.
Widely respected in the community, Karl has earned the trust of hundreds of clients and peers over his decades in practice and is known as a compassionate and practical, counselor.
Always mindful of the costs related to litigation – both emotional and financial – he has guided hundreds of families in the successful structuring of important personal documents and plans.
Career
Highly respected among his peers, Karl has served as the Chair of the Washington State Bar Association Elder Law Section, and program director for the King County Bar Association Guardianship and Elder Law Section. He has chaired many elder law, guardianship, and estate planning Continuing Legal Education sessions. He lectures on estate planning, elder law, guardianship, trust and related litigation matters.
Since the late 1990's, Karl has offered pro bono legal advice through a free monthly legal clinic he runs at the Shoreline Senior Center, where he is a past board member and former board chairman. He is a member of the National Association of Elder Law Attorneys, the Washington State Bar Association, and the King County Bar Association.
The Superior Court often appoints Karl as a guardian ad litem to advise judges and commissioners in guardianship, trust, and probate cases, and he regularly testifies in jury and non jury Superior Court cases.
Background
Karl grew up in Montana, attended University of Rochester in New York, and lived in Alaska for 11 years practicing tax accounting and representing clients in audits before the IRS. He graduated from Northeastern University School of Law in 1990 with his JD degree. During law school, he received an internship with Judge Hugh Bownes of the U.S. First Circuit Court of Appeals in Boston, and clerked for the U.S. Attorney's Office in Concord, New Hampshire.
After law school, Karl clerked in Seattle for U.S. District Court Judge Barbara Rothstein, and for Judges Marshall Forrest and Jack Scholfield of Division I of the Washington State Court of Appeals. He opened his own private law practice in 1994.
Patrick Joseph Carter, Associate Attorney
"We are what we repeatedly do.  Excellence, then is not an act, but a habit." -Aristotle
Patrick Carter's practice covers estate planning, probate, trust administration, guardianship, and taxation law, including tax controversy and tax planning. He enjoys solving complex problems that involve people's real-world concerns. His advice is always practical, and tailored to their individual needs, desires, and goals.
Clients appreciate his ability to explain their options and cover the pros and cons of alternate decisions and the legal solutions available to them. Throughout each engagement, he keeps clients informed regarding their legal matter. While some clients prefer to understand all of the nuts and bolts of their case or the legal system, others are simply seeking results and don't want to be bothered with the details. He is happy to bring clients up to speed on the details and equally able to work on delivering results while providing only the details essential to make an informed decision.
Patrick's legal skills and experience are complemented by his ability to sympathize with clients and consider all the mixed emotions they may be experiencing in addition to the legal matter at hand. For example, he often serves as a buffer between his clients and other parties who may be causing them to experience additional stress or consternation, especially during times already colored by the grief of losing a loved one.
In addition to counsel and drafting necessary documents, Patrick represents clients both formally in court hearings and more informally between other parties and attorneys.
CAREER
Prior to law school Patrick worked as a management consultant in the world of wireless telecommunications, and then as a mental health counselor (following graduate school), working in the Child Welfare discipline. These past experiences, working in business environments and working with difficult feelings in the family environment, bring a unique perspective to his practice as an attorney.
During my graduate studies in taxation law at University of Washington, Patrick received the sole Clinical Legal Education Association award for his work in the Low-Income Federal Tax Clinic.
Memberships include:  Washington State Bar Association; WSBA Taxation Law Section; King County Bar Association; KCBA Guardianship & Elder Law Section & Real Property Probate & Trust Law Section.
AFTER HOURS
Patrick enjoys baking treats derived from old family recipes, but with a catch—he no longer can consume gluten. Through a mixture of researching various chemical reactions involved in baking, consultation with other gluten-free bakers, trial, and error, he has been able to create some tasty approximations of the desserts he enjoyed eating at his grandmother's house as a child.